Electrical Services We Provide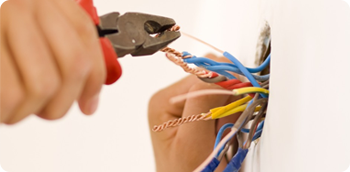 We provide our customers with the highest level of electrical repair-services with an unparalleled, friendly approach. Starting from small repairs to giant ones; all our skilled technicians are fully equipped to solve any electrical problem with proficiency and courtesy. At A.K. Electric we are committed to excellence in order to deliver you quality-service.Call us for a free estimate.
Lighting |
Powerpoints |
Ceiling fans |
Surge Protectors |
A/C Installations |
Fault finding |
Supply and Installation of R.C.D'S - Safty Switches |
Emergency Repairs |
Switchboard upgrades |
Rewires |
Safety Checks |
New homes |
TV & phone points |
Extensions & Alterations |
Emergency & exit lights |
We are adept in undertaking lighting installation and repairs. We are seasoned to do your lighting inside and outside both. We offer the services of 'complete lamp installations', Exterior lighting, Landscape Lighting, Decorative interior Lighting, Commercial site lighting, commercial lighting, energy efficient lighting solutions.
Our apt power points installation will greatly reduce clutter and improve convenience at your home. At the same, our quality power Points installation will reduce risk by replacing a single power point which has many electrical devices using a multi-plug with double adaptors, with two or more double power points. We come up with three colors of sockets; black, grey/silver & white to match up with your ambience. The quantity of the power Points is single, double or quad and is of double, vertical or horizontal orientation.
We offer ceiling fans installation & repairs in a professional way. First we opt for precautions all-important to make sure your ceiling fans installation is done accurately. Before we start our work, we place protective-cloths or papers down in the area where ceiling fan is to be installed/repaired. We then sincerely check to turn the electricity in the area off for safety purpose. We then assemble/reassemble and finish installing the new or previous ceiling fan. When it is done we turn the electricity back on. We test the functionality of the fan and adjust the blades accordingly, if it is needed. Lastly we leave the work area cleaner for our customers' convenience. Ceiling fans not only keep safe utility costs but also sum up a decorative proposition to your room. Ceiling fans magnify your room's existing aesthetics. We also are specialized in installing the ceiling-fans having lights that provide you additional lighting.
We provide quality surge protectors to protect electrical devices from voltage spikes. These will limit the voltage-supply to an electric device by either blocking or by shorting to any unwanted voltages above a safe threshold.
We install surge protectors in power distribution, process control systems, communications systems, and other heavy-duty industrial systems for the aim of protecting against surges and spikes in conjunction with those caused by lighting.
We furnish an efficient and durable AC Installation Services at cost-effective prices. Our experienced, skilled professionals are good at providing these services in both, spilt and window AC. They work with great dedication and zeal that help in achieving total customer satisfaction.
Faults in electrical systems do not always just happen overnight, but instead develop over a period of time. Our professional commercial electrical contractors in Melbourne use a systematic and logical approach to quickly analyze the fault, determine what is wrong and solve the problem. We work 24/7 to cater for them late night faults that occur.
An RCD (residual-current device), is a safety device that provides a fast power cut-off whenever an imbalance is detected in a circuit. These imbalances can be caused through the body of a person, who accidentally touches the energized part of the circuit.
Our team of expert professionals is qualified to carry out all types of emergency electrical repairs for domestic and commercial settlements. Our team is 24/7 in get-set-go position to deal with any of your electrical faults such as, Power cuts, and lighting problems or electrical appliance repair and replacement, rest assured you're in safe hands with A.K Electric.
Are you worried of your old switchboard, with poorly insulated cables? We are here to upgrade your poor switchboard with safety switches and new cables with the latest in insulation technology to give you peace of mind. Our extensive lists of switchboard upgrades-services come with guarantee. This means you can be assured we will do a professional and comprehensive job for you. We are seasoned to work on your entire switchboard, & metering.
If your home is more than 25 years old or you have any concerns about the condition of your electrical house wiring, you can arrange for AK electric to give an electrical safety audit
Our qualified electricians, will conduct a thorough assessment of the condition of the electrical installation in your home, and provide a report listing any defects which need attention and guide you with solutions to repair electrical works. Any remedial work can be arranged to be repaired for a fixed price and a Certificate of electrical Compliance issued.
How to determine if you may need a rewire. The most common symptoms on a home more than 25 years old are -
Loss of power in short intervals when using many appliances
Old electrical fuse boards, Note - you may find older homes with new circuit breaker switchboard, this is still not a good indication the home has been rewired.
Porcelian fuses too hot to touch
Wiring clipped to floor boards or around architraves and not protected
No earth a lighting points
No earthing at power points
Electric cables in original metal conduit that has been disturbed
Lights flickering at night when using appliances
Safety Switch tripping will be frequent with older homes due to cable insulation breakdown
We conduct safety checks services to maintain safety in operation. Find and correct safety hazards and to save energy and cut costs. We cover light bulb wattage, switch and wall outlet operation and operation, shock or electrocution, checking grounding system, checking for appropriate surge protection, checking outdoor electrical system etc.
While installing electrical system at your new home we design & work within the architectural parameters of your home. We understand the importance of your new house and electrical requirements as well so.
Our responsibility is to furnish you with the most guaranteed & innovative solutions for your home electrical system. We also work towards helping you get the best electrical system that will suit your lifestyle. We strive to explore the best products that are efficient & reasonable.
We install new or additional TV points and phone points for you anywhere in your home. We can install new TV antennas, as well as additional and convenient TV ports for the bedrooms, kitchen, granny flat, patio, kid's rooms, dad's shed, and almost anywhere you want to watch television!
In maximum cases it is very convenient and easy to install additional TV ports but sometimes your existing cable is needed to be upgraded.
We provide electrical extensions and alternations services up-to-the-mark. While extending the electrical system of your properties or relocating of the electricity service to your properties to an alternative location; we perform our best. Our extensions and alternations include disconnection and relocation & extending of electricity supply cable and installing all electrical as well as electronics equipment.
We install emergency & exit lights in public facilities such as a building, aircraft or boat denoting the location of the closest emergency exit in case of fire or other emergency.
Our Exit signs are designed in a simple way to be absolutely unmistakable and recognizable to anyone.